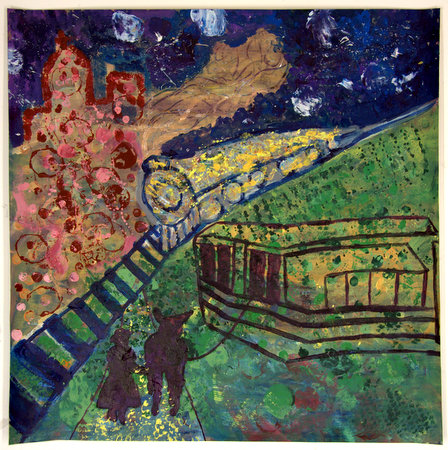 Created by South Carroll High School, Sykesville, MD
Artists: Emma, Leah, Mattie
Title: Path to Progress
Teacher: Mrs. Payne
Theme: Location / transportation
Materials and techniques: We used lots of paint. We layered cool colors on top of warm colors, using different objects to make marks and patterns to show the different parts of the composition. There are probably five or more layers because if we didn't like it we kept adding more colors and marks until we did.
Did you enjoy this project? More or less. I liked the beginning process preparing the canvas with the first two layers of color. It got more challenging when we had more ideas than we could fit on the paper. Sometimes it was hard working in a group because we couldn't all agree, but eventually all the ideas were incorporated in.
About: We started by looking at one of the brochures about Harper's Ferry. We chose to work with the statements by Presidents Washington and Jefferson about the geographical significance and beauty of the area. We focused on the major forms of transportation that were significant and had impact on the area.