Created by Skyline Middle School, Harrisonburg, VA
Artists: Keysi, Elizabeth, Abby, Elvia
Title: You will lead the Fight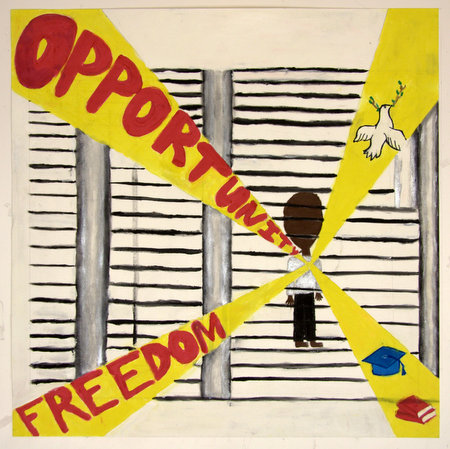 Teacher: Mrs. Kincaid
Theme: Freedom
Materials and techniques: Paint.
Did you enjoy this project? At the end we like how it tuned out. We worked hard and struggled on some parts. But, we worked together to fix things. We like the rays or light the most because they turned out good.
About: In this painting we illustrated the poem, From Shackles to Scholars.
In our painting we did a person in a cage to represent, you are a slave chained by shackles so tight, your life is darkness. After that we did four rays at light representing the phrase "But you yearn for sweet light." Then we did some words and pictures on the rays of light. For example: k opportunities, freedom. We did the words and pictures showing what he wanted… you know you have worth, you will lead the fight.