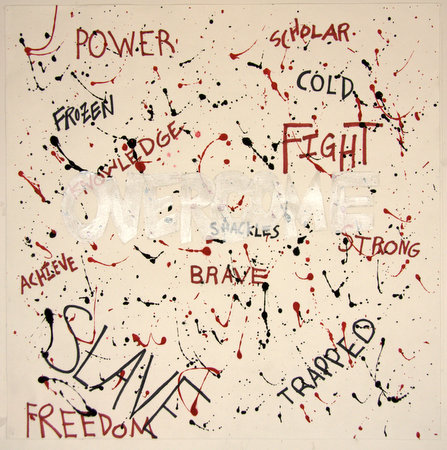 Created by Springfield Middle School, Williamsport, MD
Artists: Tae Von, Caleb, Ryan, Joseph, Connor, JP, Sawyer, Isabella, Laken
Title: Overcome
Teacher: Mrs. Rote
Theme: Shackles to Scholars
Materials and techniques: Sharpie and acrylic paint.
Did you enjoy this project? Yes.
About: 7th grade art class at Springfield felt moved by this topic and wanted to represent how they felt through text. The black words are to represent the struggles. The red words are to represent inspiration. The word overcome has been painted silver and transparent to represent that all the struggles were overcome however, even with inspiration and positivity, there are still things to this day we must overcome.