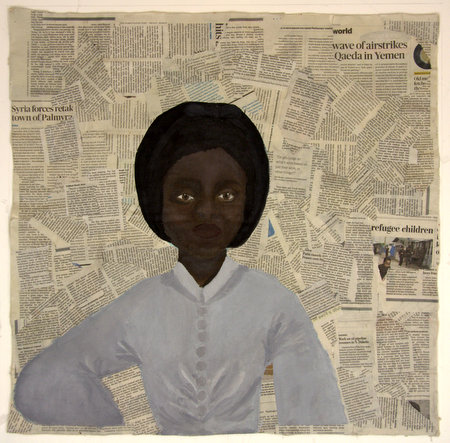 Created by Richard Montgomery High School, Rockville, MD
Artist: Clara
Title: Phillis Wheatley
Teacher: Mrs. Stanton
Theme: Education
Materials and techniques: I used acrylic paint to create Phillis Wheatley. I also used newspaper in making the collage background of my piece.
Did you enjoy this project? I really enjoyed working on this project. It felt important to recognize such an important historical figure who I had never heard of before, and spread this knowledge by making her the subject of my submission.
About: Phillis Wheatley was the first published African-American poet. She was sold into slavery at a very young age, and was encouraged to read and write by the family that purchased her. Phillis Wheatley's work, especially her book "Poems on Various Subjects, Religious and Moral", received high praise throughout America and Europe.
She was an extremely important and intelligent young lady who is not recognized often enough for her accomplishments.